Reading Time:
3
minutes
If clutter trumps cars in your garage, get organized (and make room for your vehicles) with these smart garage storage solutions, each costing less than $50.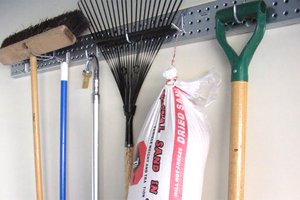 Round up Wheels
Bicycles, skateboards, scooters, and rollerblades — wheeled belongings can get underfoot and land you on your assets or bang up the car. Protect your paint job (not to mention your backside) with these wily storage solutions for your garage.
Hoist bicycles to the rafters with a rope-and-pulley system ($22) that makes it easy to raise the bike and lock safely in place. When you're ready to ride, release the lock and lower your bike to the garage floor. You'll need an hour or two and basic tools to secure the pair of pulleys to ceiling joists and thread the ropes. (Similar hoists are available for kayaks or small boats; $25.)
Avoid unintentional skateboard "tricks" with a specially designed wall rack that makes it easy for kids to hang up helmets and skateboards together; about $40. Secure this one to wall joists in less than an hour.
Keep scooters and bikes out of the way with tool hooks installed on a length of 1-by-6-inch lumber. You'll pay $3 for each pair of vinyl-coated screw-in tool hooks and $1 per foot for lumber. You'll need only an hour or two to secure the lumber to wall joists and screw the hooks into place along the board.
Rule Over Sporting Goods
Active pursuits require a lot of gear that ends up in the garage. These organizers help tidy up all those sports balls, rackets, bats, gloves, clubs, fishing rods, and other outdoor fun-related goodies.
Bring together balls and bats on a convenient wire rack equipped with hangers that hold gloves too; $40. Or, mount one or more ball claws on the wall to securely grip sports balls of all kinds; $12.
To keep your garage organization from going downhill, stash two pairs of snow skis, poles, and boots in one handy steel ski rack; $45. Securing this rack to wall studs helps it hold the weight of the equipment. If you can't position it on studs, use wall anchors for a secure installation. You can do the task with or without anchors in an hour or two.
Make a port for your fishing rods by suspending two wire shelves from your garage ceiling about 5 feet apart, then threading the rods through the openings. Use shelves left over from a project or purchase a 4-foot-by-16-inch vinyl-coated wire shelf for less than $9, and saw it in half crosswise (or clip with bolt cutters) to make two 2-foot shelves. Snip additional wires where you need wider slots to accept pole handles or reels.
Read more: Organize Your Garage for Under $50