Reading Time:
3
minutes
Just because you're not interested in cultivating a green thumb doesn't mean your yard has to be boring. These simple-to-do ideas have big impact.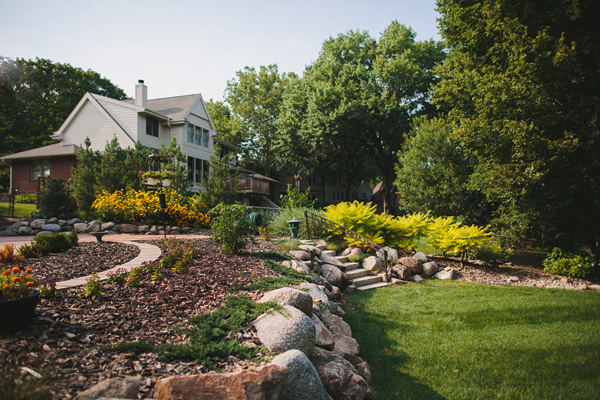 Image: Sun Valley Landscaping
If only 50 shades of green could be as exciting as, well, you know. But let's face it: There's nothing titillating about green bushes against green grass. To give your boring monochromatic yard a dose of charm without a ton of effort, try these four ideas perfect for spring. No gardening prowess required.
1. Plant Just One Tree
Planting one tree isn't a huge effort. You'll be helping our planet, too. Plus, once the tree is established, it's about as low maintenance as a landscape can get — and the difference it can make to your yard lasts for decades. The key is to choose a tree that adds interest to your landscape in the form of color, shape, and texture.
There are a ton of trees to choose from, but to play it safe, try a Japanese maple. Many are suitable for most any climate. They all offer color, form, and texture that can liven any landscape.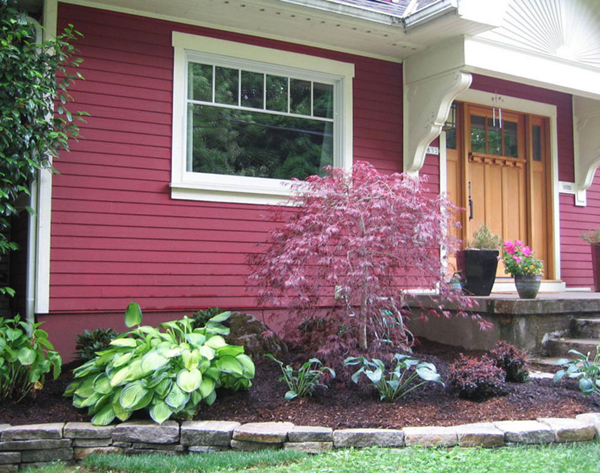 Image: Lisa Meddin, Harmony Design Northwest
2. Tap Into the Colorful Punch Mulch Can Make
Mulch is one of the easiest ways to add both color and texture to the entire yard. "Next to a green lawn, coffee bean-colored mulch is a great contrast," says Paul Fraynd, owner of Sun Valley Landscaping in Omaha, Neb.
If a dark roast isn't your preference, there's a a multitude of mulch colors that can spice up your bland landscape. Red, black, gold, cedar-toned — you choose.
For something truly unique, try pine cones. They introduce a knotty texture that breaks up the monotony of flat lawns and box-like shrubs.
The point is that mulch is easy: Choose a cool color and texture, then dump it, spread it, and forget it.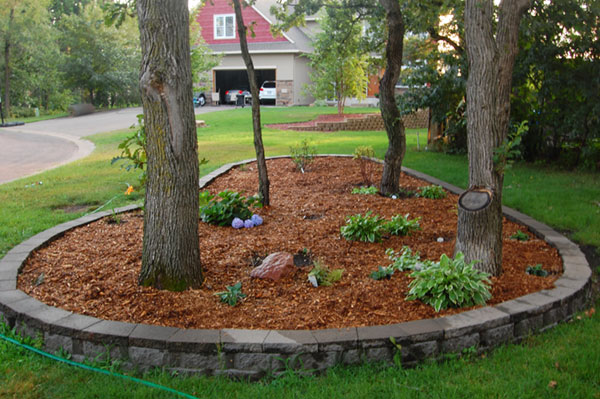 Image: BobbleHeadBaby.com
3. Get Edge-y
Look along your walkways and garden beds. If your lawn just seems to morph into your shrubbery or threatens to take over your front walk, some unique edging could perk up your yard. No pruning, cutting, or watering required.
Define a walkway with some personal or found items, says Missy Henriksen, vice president of public affairs for the National Association of Landscape Professionals.
"Colored hockey sticks can line a path or wine bottles planted neck down in the soil," just make sure you do the entire path. "Two or three wine bottles lining a path might look like leftovers from last night's party," she says.
If you want to keep it all in the plant world, low-maintenance ground covers are an excellent choice for edging, she adds. Try lily of the valley, vinca, lamb's ears, and pachysandra. Some of these add color, others texture, she says.

Read more: 4 Spring Landscaping Ideas for Homeowners Who Hate Yard Work