Reading Time:
3
minutes
These moving hacks will reduce the hassle of taking all your things to a new home.
Packing up an entire house is on most people's invisible list of "Least Fun Activities. Ever." But it doesn't have to be that way. A few clever hacks can help you fast forward the whole moving thing — and ditch some of the stress.
To help demystify the process, we combed the Internet and asked two professional organizers — Maria White, founder of the website "Enuff with the Stuff," and Donna Smallin Kuper, author of "How to Declutter and Make Money Now" — to give up their secrets.
1. Do a Pre-Pack Photo Shoot
Make unpacking a snap by taking some pre-packing photos so you'll know exactly where everything goes when it's time to empty those cardboard moving boxes. Take pictures of bookshelves, display cases, and even all that wiring behind your TV and computer. With the photos in hand, you'll remember just how you had it set up before so you can recreate it in record time.
2. Follow the $20 in 20 Minutes Rule
Smallin Kuper, who's moved 11 times herself, warns against packing up anything you don't love or don't really need. But what you really need can be hard to define. To help make the call, she advises going by the $20 in 20 minutes rule. "For smaller items, ask yourself if you were to need it again in the future, could you find it for under $20 in under 20 minutes. If yes, let it go."
3. Corral Cords with Toilet Paper Rolls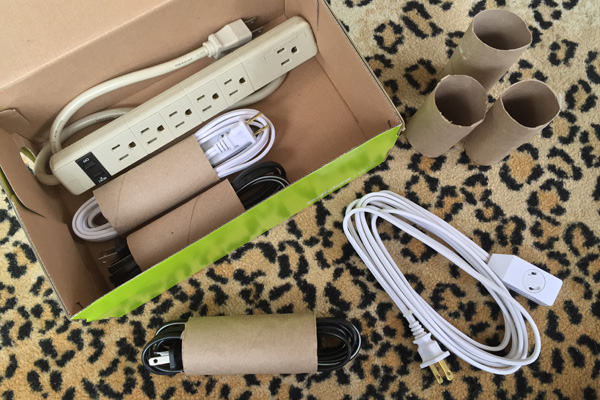 Image: Libby Walker for HouseLogic
How many extension cords can fit in moving box? Not very many if they're tossed together in a jumbled mess. Wind each cord up in about a 6-inch coil, and insert each into its own roll. You'll have lots more room in the box, and no tangled mess to unpack later.
4. Create a Command Central
Don't turn packing day into hunting day. Create a "moving toolbox" where you keep your box cutter, tape, labeling markers, and other packing supplies in one place. It's easy to misplace small and essential items like these when your house is full of boxes and in disarray.
5. Tape Appliance Cords to Their Home
When it comes to the cords to specific appliances, don't set yourself up for hours of electronic guessing games (or worse, hide and seek) later. Tape the plug right to the appliance to which it belongs.
6. Employ Pre-Owned Packing Materials
Who needs to buy bubble wrap when you already have so much great packing material? Smallin Kuper recommends pot holders, oven mitts, and even those old paper and plastic grocery bags you were planning to recycle. Also consider towels, pillows, blankets, the kids' stuffed animals — whatever's soft!
7. Pack By Not Packing
Just because you're taking all of the clothes in your drawers to your new home doesn't mean you have to actually pack them. Simply wrap the whole drawer in plastic wrap, and your drawer becomes the box. The same trick can work for hanging shoe racks, utensil organizers, and other container-type items.
8. Color-Code Boxes
Image: Hip2Save.com
You'll know which room in your new house is Jim's and which is Jenny's, but the movers won't! Rather than simply labeling boxes with the name of the room they're destined for, assign a color to each room, then mark that color on the outside of each box — color labels are great for this. Before movers arrive in your new home, add the correct color label to each room's door.
Read more: 14 Pro Mover Secrets That Make Packing Your Stuff Easier