Reading Time:
2
minutes
Successful burglars have lots in common — home owners who unwittingly give invitations to robbery. Here's how thieves thank you for your generosity.
You come home to an open front door, a ransacked house, and missing valuables. How did a burglar know you'd be gone? How did they get in?
In these 10 thank-you notes, your friendly neighborhood burglars share advice on how to stop lending them a helping hand.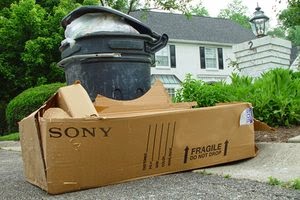 1. Thanks for the ladder!
Call me a social climber if you will, but I did discover a ladder in your back yard. Thank you for leaving it where I could lean it against your home and easily reach a second-story window. I really love it when upper story openings aren't wired to a home security system!
So, if you want to keep me out, store your ladder in the basement or a locked garage. And call your security company to wire upper-story windows into your alarm system.
Vertically yours,
A rising star
2. Loved your trash
Can't tell you how much fun I have driving around neighborhoods on trash day (especially after big gift holidays) when the empty boxes on the curb reveal what wonderful new toys you have. Your thoughtfulness made it possible for me to land a new laptop and a flat-screen television in one easy trip to your home!
Next time, break down the boxes and conceal them in the recycling or trash bins.
Happy shopping!
Curbside Cruiser
3. Dear Can't-Get-Around-to-It
Recently, I noticed you hadn't trimmed trees and shrubs around your home, so I knew I'd have a wonderful place to hide while I worked to break into your home. I really can't thank you enough for all the great new things I grabbed.
Next time, trim back bushes and trees near windows and doors. Make sure entry points to your home are easily visible from the street — I much prefer to work in private! While you're at it, install motion-sensor lighting. I'm scared of bright lights!
Cordially,
The Tree Lover
Read more: How To Prevent Burglaries